For Alonso Ortiz, sustainability manager in Mexico, caring for nature and people shaped a career path filled with adventure
Alonso Ortiz and his wife Ana-Paula are enjoying a mango juice on the airy, shady terrace of a resort in Cabo San Lucas, Mexico. Behind them, the deep hue of the ocean at the tip of Baja California, where the Pacific and the Sea of Cortez meet, gives off purplish glints.
"I love it here," says the Sustainability and Community Outreach Manager for real estate development company Twin Dolphin. After enjoying ten years on the Caribbean Coast of Mexico, he was lured to the edge of the Pacific by an opportunity he couldn't refuse. His current employer owns a residential complex, a hotel and a golf course at the tip of Baja California, a vacation spot favored by Mexicans from the mainland and North-Americans alike.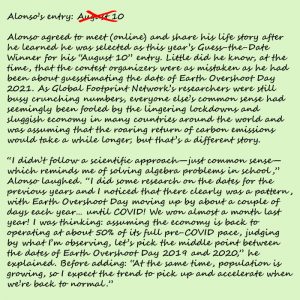 Because the area is subjected to a 6-month hurricane season, locals are well aware of the crucial role played by healthy coral reefs in protecting the shore from powerful waves and currents. Alonso gestures towards the sea behind him. "Whether you're a staff member, a home owner or a guest at a Twin Dolphin property, you're going to be able to watch your coral grow over the next few years and observe the environmental benefits," Alonso proudly says of a recent coral reef restoration project in Santa Maria Bay, which he coordinated on behalf on his employer in partnership with the Autonomous University of Baja California Sur, with the participation of many members of the Twin Dolphin community.
"I know we need natural resources but there are limits to how much we can take and how much the Earth can provide," Alonso says. "It is interesting to me that an organization like Global Footprint Network is working on calculating the date when we touch the limit each year!"
Alonso is no stranger to marine ecosystem and wildlife conservation. As a longtime Greenpeace volunteer, he crewed for three months on the NGO's boat Esperanza, patrolling the Indian Ocean between Madagascar and Singapore in 2013 to deter and report on illegal fishing practices. "There you see these huge ships with no authorization going after sharks, even dolphins and sea turtles," he said.
Back in Mexico, the beaches of the Riviera Maya, a stretch of Caribbean coastline on the northeastern Yucatán Peninsula where Alonso worked for four years in mangrove restoration, are some of the world's most important nesting sites for loggerhead, leatherback, and hawksbill ("carey" in Spanish) sea turtles. As a staff member of the Flora, Fauna and Cultura, the NGO that orchestrates the annual Campamento Tortuguero (Turtle Camp), Alonso found himself supervising the logistics of recruiting and transporting dozens of volunteers from around the world who would help protect nests located in unsafe locations, move the turtle eggs to a safer location when necessary, and safely release tens of thousands of hatched baby turtles to the sea each year.
The ecotourism experience helped fundraise for the NGO while creating lasting positive memories which the participants would happily share online.
That's when a hotel in the Riviera Maya area took notice and hired Alonso as their sustainability manager. The hospitality establishment had embarked on the Rainforest Alliance sustainability grading system and needed help to improve their social grade. "The Rainforest Alliance gave us the indicators to improve; I just had to execute," Alonso says.
Besides giving back to the community through fundraising events with guests, Alonso participated in his riskiest adventure yet: paddling in a canoe through treacherous currents to Cozumel, an island some 20 kilometers off the coast of the Riviera Maya where the Mayans worshipped the goddess Ix Chel, and back. Travesia Sagrada Maya ('Sacred Mayan Crossings') takes place in May or June each year. Sponsored by the hotel, Alonso and his teammates trained for six months, swimming, paddling, and caring for their canoe. "For the Maya, this was a mystical journey in which they were deeply affected by their experience with the forces of nature," Alonso explains. "For sure, the currents are so strong you can't paddle in a straight line. At least 30 canoes took to sea. Hotel guests were invited to greet us when we left and when we came back. It was unforgettable."
In Cabo, quieter adventures await on land also. In an area where stray dogs and cats abound and act as disease vectors, Alonso works to support the animal shelters run by the Humane Society, donating food and medical supplies. Meanwhile, a short drive north along the Pacific Coast, the boarding school in Todos Santos, a community made famous locally and in the United States by its crops of fresh produce, is still operating at half capacity because of the pandemic. Its 40 students, aged 4 to 14, have been sent over multiple generations to get an education by farming families scattered throughout the region's dry and empty landscape. The new kitchen, dorms, bathrooms, air conditioning, even computers and school supplies donated through Alonso's efforts are waiting for the return of a full cohort at the start of the new school year. The recently rehabilitated orchard will be ready for young minds and hands to learn to care for it.