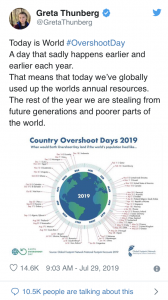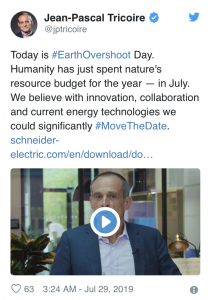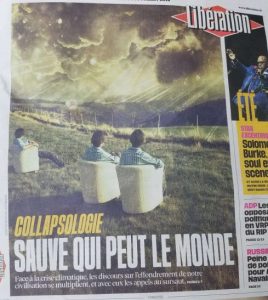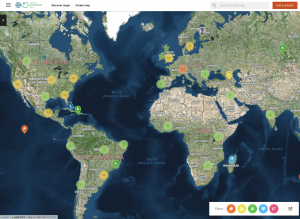 Influencers engaged
We're excited to report that Earth Overshoot Day enjoyed yet another very strong following around the world this year. We have tracked over 5100 media stories in 86 countries. Many reacted, including Austria's President Van Bellen who tweeted about it. So did young Swedish climate change activist Greta Thunberg, prompting 10.5k people to engage. Chile's Minister of Environment and chair of the Climate COP25, María Carolina Schmidt Zaldívar, stated that "with Earth Overshoot Day occurring ever earlier in the year, the importance of decisive action is becoming ever more evident." We also couldn't agree more with former secretary-general of NATO, Javier Solano, who wrote that "the earliest ever Earth Overshoot Day is a stark reminder of how much we demand from our planet, and of the unprecedented energy transition required to combat global warming." You can see more voices here. Did we miss anything worth sharing ? Please let us know.
Schneider Electric's unprecedented advocacy for "one-planet prosperity"
Speaking of energy transition, this year's campaign received unprecedented support from global energy leader Schneider Electric. The company's CEO and Chairman Jean-Pascal Tricoire co-authored this op-ed in Fortune Magazine with Mathis Wackernagel, and posted this video statement on Twitter. And because it will take more than energy transition to #MoveTheDate of Earth Overshoot Day back to December 31 and beyond, Schneider Electric produced this white paper in collaboration with Global Footprint Network ("The Business Case for One-Planet Prosperity") to launch a much-needed conversation across all sectors of the economy. It argues that embracing planetary constraints is beneficial for business strategies. You can still read the TweetChat that supported its launch using #SEMoveTheDate.
Solutions still seek the media limelight
The media coverage this year showed interesting signs of becoming more sophisticated. Case in point:  six-page cover story in France's leading newspaper, Libération, on "collapsology." It was published the day after Earth Overshoot Day. Through interviews with multiple experts – philosophers even – the reporters demonstrate that the risk of collapse of our civilization is to be taken a lot more seriously than a mere conspiracy theory by doom-and-gloom-hungry alarmists. It falls short of discussing solutions, however, like most of the media coverage. One notable exception is this remarkable article in Forbes, We Have Already Used Up Earth's Resource Budget For This Year. How Can Deeptech Startups Help?
Transforming narratives and mindsets about solutions
People need to be able to share and celebrate solutions they love. Because what we love and want, we will also implement. That's the reason why, in the days leading up to Earth Overshoot Day, we launched the beta version of the #MoveTheDate Solutions map we developed with our partner Mapotic. More than 25,000 people visited it on Earth Overshoot Day alone, with France generating one-third of the traffic. We are proud to report that this brand new social platform counts already more than 1,300 members who posted more than 300 solutions. Our goal is to grow and support this community so its members accelerate the implementation of effective solutions that #MoveTheDate. Are you game?